Bit of a flurry of activity going on this week, considering that I didn't have time to get anything done last week. It's an early treat this week, mainly as I'm out partying on Friday, tomorrow night, as opposed to my normal routine of a few beers on the way home from work, followed by a couple of hours of mashing beofre relaxing with a bottle of vino and Star Trek:TNG (yep, geeky!).
Here's one that I'm quite chuffed with if only because it came about exactly as planned. As I came across the Liberty X vocal a week or so ago, I was struck by the idea of doing a mash based on the pun of the name of that icon of America, the Liberty Bell.
Two tracks into looking for something that involved bells (my first choice was Slo Moshun's classic, "The Bells of NY") and I had my candidate - the sublime and legendary Orbital classic "Chime".
And the best part was, the vocal virtually fitted the length of the 7" mix of Orbital straight away! A little bit of tempo changing, a few irksome vocal cuts here and there to try and get it in time, and the track was made.


A straight-forward A+B mash, with possibly my most favourite title I've ever given to one of my works :D

Liberty Bell

Orbital vs. Liberty X
Chime vs. Just A Little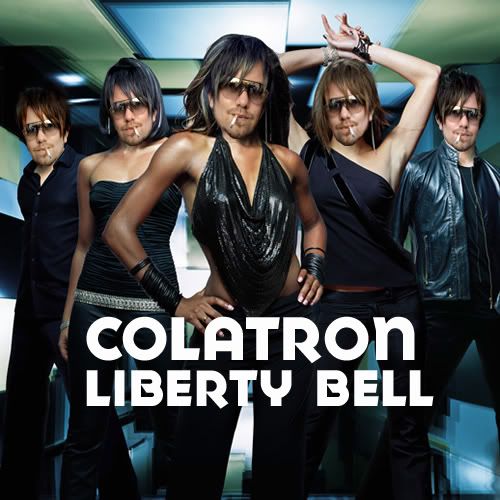 MP3 Download Page Here:
http://www.mediafire.com/?4xzpp0visr3

In other news, keep an eye out for the much anticipated show #100 over at Scott's excellent as ever Ramdom Thoughts podcast

http://www.ramdomthoughts.co.uk/

This one's an extra special show for obvious reasons, as every track featured is an exclusive. I've had the skinny from Scott and it sounds like it's going to be a top show, and yep, I have a track in there meself too, as well as an extra special little gift to Scott himself, in the form of a "virtual musical birthday card". The only time you may ever hear DJ Shadow, Altered Images and Marilyn Monroe in one place. Expect the exclusive track up online here in the near future...it's a summertime doozy!

Also, I've had the pleasure of getting in to the top ten of one of me fave blogs on t'interweb, the resplendent Butch Rosser's Island of Misfit Songs blog. It is a cracking site with some great interviews, listings, a great Muxtape and the odd idea giveaway here and there. Anyway, cheers Butch, the cheque's in the post mate. Check it out over at

http://theisle.wordpress.com/

But another thanks has to go to Butch for giving me a great great idea that I can hopefully finish off this weekend and get up online here next week-ish. I can't stop whistling it in the shower! Cheers again dude!

Anyhow, I got Monday Night RAW on me TV at the mo. So I'm offski to throw a few powerbombs in the flat. Until next time, adeiu...